I can remember at one time as a young runner being told along the lines, "You shouldn't drink Coke. It will wind you… it's bad for your joints… and it will make your bones brittles." It's amazing this sort of young-runner-folklore continues to get passed down from generation-to-generation, as I still hear this or get asked about it by younger runners! I still hear club/high school level coaches telling their athletes this as well.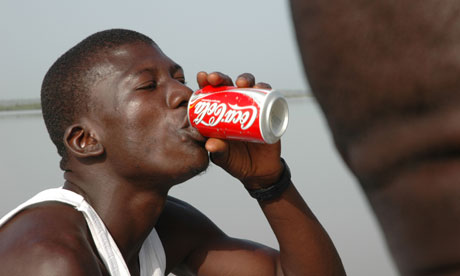 So…. I'm going to dispell the myth– elite runners drink soda/coke/energy drinks. Yes, sorry to break the hearts of millions of high schoolers who needlessly gave up soda cause their coach said it's bad.
First off, Coca-Cola has been the longest continuous sponsor of the Olympics, going back to 1928. There was a push at the Olympics last year to get Coca-Cola banned (and McDonalds too), saying it sets a bad example for children. Well, the message of combining sports WITH Coca-Cola should be, as taken from the book Once a Runner, "If the furnace is hot enough, it will burn anything."
Coca-Cola is a beloved, world-wide beverage that's ubiquitous at road races. I don't know how many times I've been to a race, sat at a lunch/dinner table with Africans/Russians/International athletes, and they're ALL drinking Coca Cola or some sort of carbonated beverage. They LOVE soda and drink it with meals! When I lived and trained for a bit with my Kenyan-American friend, Janet, she had several shelves of assorted, bottled sodas and likes to drink it with meals. My elite marathoner friend, Molly, loves to drink diet Mountain Dew (and I've heard others swear by diet soda too) [Edit: Molly reminded me that she has two diet Sunkists before every morning run, and sometimes more throughout the day]. Personally, sometimes I crave a Coke/Pepsi/Ginger ale after a run, esp. during the summer. It's not like I'm drinking 2-3 cans a day… more like 2-3 cans a week. As with everything, you should consume in moderation.
Back in the day (and many still do), elite marathoners would defizz Coke  (or use Cola syrup, which you may be able to find at a pharmacy or the link online) and consume it in races for both the sugar and caffeine. It's highly debatable on whether there's any detriment to high fructose corn syrup (HFCS) vs sugar cane (which was used in the past). If it matters to you and you'd prefer sugar cane soda, you can look for something like Mexican/Throwback Pepsi. Some of the Hanson runners make up a concoction of Gatorade Endurance Formula+Red Bull, for a caffeine boost later in the race. To say that "Coke/soda will wind you"… when many of the best runners in the world are drinking it DURING a marathon… is total nonsense!
As far as the "your bones will go brittle" that swirls around the internet… well, if you're drinking Coke in place of other ~Calcium rich drinks/foods, then you might have a problem! It's just sugar and caffeine though- might be more of a problem for your teeth than your bones. Certainly, everything should be consumed in moderation (which some research says not more than three 12 oz sodas/day ). For what it's worth… when I was in grad school and we had Bone Lab meetings every week, Dr. Turner (Ph.D., who's a World-reknown expert on bone health) would come to the meetings with a 32 ounce cup of Pepsi. Nearly every time I saw him he was always carrying his cup. Mind you, researchers are about 10-20 years ahead of what MD doctors know. If it's Ok to him, it must be Ok for the rest of us!
Are there better/healthier drink alternatives to drinking a soda, whether before/during/after? Possibly, but it would require a side-by-side drink comparison. A study in Spain found that drinking beer is better after a workout than water– it's not surprising to see beer being served post-race, alongside soda. Beer consumed in moderation is also found to be good for bone health . I previously did a blog post about Post-run recovery foods and beverages. Personally… sometimes I crave a Coke… sometimes I crave a beer… sometimes I drink OJ with liquid iron… and other times I drink a glass of lactose-free chocolate milk. If it's after a hard workout, I'll make a fruit smoothie with raw eggs.
Lastly, to end of the debate on whether it's Coke vs Pop vs Soda… it totally depends on your geographical location!